From irrelevance to hierarchy: How has ISL revolutionized Indian Football?
The Indian Super League has come a long way since its inception in 2014 – from featuring eight clubs to eleven; from being the secondary tournament in India behind the I-League to overtaking it; from boasting international superstars to giving a push to more Indian players on the field. And it is safe to say, ISL has progressed on the path of Indian football optimistically so far.
Despite it being said for decades, Indian football is on the rise. Similarly, the country's football league has traversed through different eras of trials, tribulations, and triumphs. However, the inception of the Indian Super League in 2014 ushered a brief revival in how professional league in the country was conceived and conducted while creating legends who left an indelible mark on the game of football and in the hearts of fans across the country.
Backstory
The Indian Super League began as a step to nurture the popularity of football in India as the country got ready to host the 2017 FIFA U-17 World Cup. Before Indian Super League, the sport saw limited popularity but still managed to draw large fans, bringing in football icons like Pele, Diego Maradona, and Lionel Messi.
Currently, in its 8th season, the ISL has 11 teams and may see even more teams get into a franchise-based league model by 2023. Unlike league formats in England, Spain, or parts of Europe, ISL clubs enjoy fixed membership, with no promotion, no relegation.
Despite being the fourth-biggest football league in the world on Instagram, ISL still pales in on-field comparison to English Premier League, La Liga, Serie A, and other similar leagues in Europe and South America.
While many begs to differ by saying that the league is not perfect and still has a long way to go. In a way, it is fair that two things can be true at the same time and the same applies to ISL. The fans always want more, as they should, but that doesn't take away from the fact that ISL has significantly helped elevate Indian football to new heights.
Better match experience
Before the emergence of ISL, Indian football leagues had poor television coverage coupled with poor branding, marketing, and a dull ambiance which was not enough to attract the audience from the national and international community.
Fast forward to the present day, and ISL has transformed into the hierarchy of Indian football with a collection of marquee players from Europe to South America and young players filtering down the football pyramid to lift the level considerably. Former Brazilian footballer and Inter Milan defender Marco Materazzi Brazilian Roberto Carlos, Alessandro Del Piero, Nicolas Anelka, Luis Garcia, Robert Pires, and coaches like the legendary Zico became the trailblazers of the phenomenon. Many others followed suit including Ferran Corominas and Steven Mendoza who are now idolized as icons.
The TV ratings improved like never before, leveraging social media presence with millions of admirers has also helped the league to attract a fanbase through banners, pictures, and tweets on social media. The rising graph clearly suggests that today's youth are not just welcoming the game, but enjoying it too.
Fan culture
During the National Football League/I League days, the lack of proper fan involvement programs hurt the growth of football fan culture in the country.
With the advent of the ISL, the fans have found new vigor and are able to attend matches regularly and follow their teams to away matches which ultimately results in a better matchday atmosphere, something that seemed like a pipe dream 10 years ago.
The ISL's fan engagement programs led to the formation of multiple fan clubs, West Block Blues, Manjapadda, Gaur Army, Red Miners, The Juggernauts, Super Machans, and the latest East Bengal Ultras and Mariners Base Camp.
For others, these games mean nothing in the long term, but for the fans, it is more than a club involvement and every matchday counts as a big event. They become the 12th man and want to be part of everything the club represents. It takes a very special type of fan to travel across a state to see your local team play in a week, week out. It gives a whole new connection between fans and players if they come from the same city or state. Just look at Edwin at Chennaiyin FC, Sahal Samad at Kerala Blasters, Brandon Fernandes at FC Goa.
Attendance
In terms of attendance too, the ISL has shown encouraging progress over the years while improving the overall perception of the league from both inside, and outside, of the Indian football realm.
In the inaugural year, the average attendance at an ISL match was 24,070 and watched by 429 million viewers on Star TV. In 2015, the spectator count grew to 27,210 per match. The 2015 season also registered the league's highest attendance of 68,340 between ATK v Chennaiyin in the two-legged second semifinals. The following seasons saw a decline averaging 20,659, 14,731, 11,908 respectively. And the past two seasons have been played behind closed doors owing to the pandemic. However, in the coming years, ISL may see even more teams added with promotion, and relegation would be a great sign of integration and promising better fare and a much larger following.
Viewership and Social media reach
An analysis by Broadcast Audience Research Council (BARC) data shows that the league recorded a giant reach of over 130 million in the 2021 season; surpassed the previous season in terms of Television Ratings, Time Spent Viewing, brand integrations, and social buzz.
The 2021 season also garnered 3.42 billion viewing minutes compared to the 2020 season's 3.16 billion as well as 16% pan-India growth from the 2020 season's viewership numbers. Smart broadcasting coverage by Star India has played a part, too in rising the numbers with its grandeur touch of localized telecast in regional language and high-engaging content to reach out to more people.
And let's not forget that in an extremely tech-savvy Indian youth in the digital platform, there has been a drastic increase in engagement as well. And also remember that ISL's engagement in digital media is more than double of Italy's Serie A.
Direct links with foreign clubs
With an eye to improving the level of football in India and expanding their own brand, some European clubs have taken steps to get involved with ISL clubs. One of the most significant deals in the history of the league was when City Football Group added Mumbai City FC to their portfolio of football clubs after acquiring a majority stake of 65%.
Germany's Bundesliga outfit Borussia Dortmund has a partnership with Hyderabad FC in the enhancement of the academy and coach education. Scottish Premiership champions Rangers FC and Bengaluru FC forged a technical deal of setting up football schools and holding training camps in Bengaluru. And other German Bundesliga side RB Leipzig established a strategic partnership with FC Goa to offer their facilities in order to develop Indian talents and also expand their own brand in the country. All these tie-ups with foreign clubs inspire and pave the way for the next generation of footballing stars in India.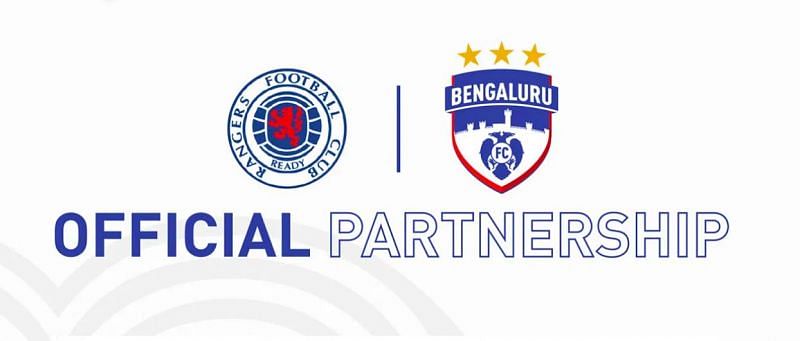 Recognition
Clubs in Asia and Europe are noticing the massive talent nurtured in the ISL. Many young talents have had tryouts with European clubs but failed to pen a deal. Ashique Kuruniyan, Jeje Lalpekhlua, Lallianzuala Chhangte, and Brandon Fernandes to name a few who were a touching distance of the ultimate dream of playing in Europe.
Commitment to youth development and grooming domestic talent
Finally, the ISL academy system is an important part of the league's growth and stability that simply didn't exist in the first few years.
During the initial years of ISL, playing in I-League and state tournaments was the biggest pipeline for young players to enter the ISL. That meant that players usually spent years playing in the college environment. However, this system is now constantly improving, with ISL having youth academies at every club, teams across the country becoming more and more competitive and the number of younger kids who want to play football constantly increasing as well.
Just as important as the improvements made on the youth are the strides made on focusing on the growth of domestic talent as well, which also happened to be an important ingredient for long-term growth while ultimately giving the national team a much-needed boost.
Moving forward
The pandemic may have interrupted the last two seasons running the league being played in a bio-bubble environment with no crowds but it is easy to see where ISL is going, even if it is not there yet. When ISL began, nobody knew where it might lead. Most figured it would end up as other defunct leagues in the country. Thankfully, the league is still thriving. If this is how far Indian Super League has come in just 8 short years, there is no limit to what the next 8 and beyond may hold.
---
The Sports School has partnered with Bengaluru FC to provide aspiring footballers with world-class training to reach the next level. At The Sports School campus, we offer a Professional Football Coaching Program with experienced coaches licensed by AFC and AIFF, where the monitoring and evaluation of the student's performance will be done by Head of Youth Development and BFC Youth Academy coaches.
[maxbutton id="1″ url="https://thesportsschool.com/football/" ]
Go Back